Republicans honor law enforcement on 19th anniversary of 9/11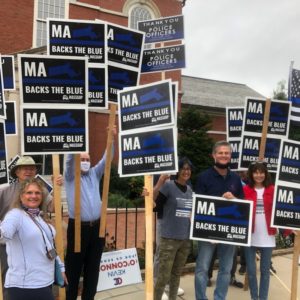 FOR IMMEDIATE RELEASE
CONTACT: Evan Lips, communications director
617-523-5005 ext. 245
WOBURN — From Gloucester to Cape Cod, from North Andover to West Springfield, Massachusetts Republicans honored one of the most solemn anniversaries in America's storied history with scores of standouts to remember, honor, and cheer the first responder community.

State Committeewoman Amanda Kesterson led Friday morning's standout in her hometown of Gloucester and said the rallies gave people the opportunity to "honor the memory of all the first responders who bravely entered those burning towers in New York City on 9/11, the hundreds upon hundreds of first responders who gave their lives to protect other Americans."
"In addition, at a time our country is under siege by the radical Left, it is another opportunity to show our gratitude and recognize the sacrifices that our police officers make on a daily basis," Kesterson said. "We wanted to express their gratitude towards police officers at a time when men and women serving in law enforcement are under political attack. 
"That's what today is about."   Kesterson added that about 40 similar rallies took place in various cities and towns across the commonwealth, all kicking off at various intervals shortly after 8:30 a.m., 19 years to the minute after hijacked airplanes struck both towers at New York City's World Trade Center, the Pentagon, and the ground in western Pennsylvania.    In Andover, Republican Evelyn Curley said the response was "incredible," and noted that GOP U.S. Senate nominee Kevin O'Connor participated in the rally. (see photo above)   "I never heard so many beeps in my life, and I'm a veteran sign-holder," she said.   Cape Cod Republican Adam Lange helped lead a standout at the rotary outside Barnstable Municipal Airport in Hyannis.    "The response from people driving past was overwhelmingly positive," Lange said. "We had four written remarks about five minutes each, about the particular hijackings, and tragic crash of Flight 93 in Pennsylvania.    "We timed the readings to coincide with the anniversary of each hijacking, rang a bell, and made sure to mention any ties to Massachusetts, whether it was a fighter jet scrambled out of Mashpee or the loss of a loved one."
In North Andover, retired police officer Dave Rand sat in a folding chair and held a sign of support (see photo below) while nearby, North Andover Republican Town Committee member C.J. Gangi stood on the Town Common with about 50 others.
Gangi said the honks of support showed there is more support for law enforcement than media reports convey.
"People have been overwhelmingly supportive, but it's this kind of quiet but steady support that doesn't exactly show up on the nightly national newscasts," Gangi noted.
Kesterson said to expect more standouts statewide over the weekend.
"The message we keep hearing is to defund the police, to take away their protections, and we're here to offer a counter-message — we support those who are willing to risk their lives each day to protect us, and we're proud to show it," Kesterson said.
To share photos from your community's standout, or to view photos from other communities and see a list of scheduled standouts for the weekend, visit our Facebook page herehundreds upo