NEW: Massachusetts Republican Party files Freedom of Information Act request with Massachusetts Attorney General Maura Healey
Request seeks copies of all correspondence between Mass AGO's office and law firm that issued cease-and-desist order to Boston First Responders United
Oct. 27, 2022
FOR IMMEDIATE RELEASE
CONTACT: Evan Lips, communications director
617-523-5005 ext. 245
WOBURN — Massachusetts Republican Party Chairman Jim Lyons filed a Freedom of Information Act request with Attorney General Maura Healey on Thursday, seeking copies of all correspondence between her office and the law firm that submitted a cease-and-desist demand to a Boston-based first responders organization for sharing a video calling on Healey to address questions about alleged unethical behavior.
(Letter attached at bottom)
"We brought this to the public's attention because a powerful law firm linked to the State Police Association of Massachusetts tried to infringe on a private citizen's First Amendment rights," Lyons said regarding his decision to publicly call on Healey, the Democratic nominee for governor, to address the questions raised in the video. "Once we discovered that the attorney who submitted the cease-and-desist demand previously worked in the AG's office for more than a decade, we decided to find out whether the order to issue the demand came from the them, and that's our basis for filing this FOIA request.
"We will continue to pursue the truth, despite the news media's apparent disinterest in the documented fact that an attorney representing SPAM with close ties to Healey actively sought to use his position to assist with her campaign for governor."
Lyons is encouraging anyone alarmed by these recent developments to call on members of the news media to begin investigating the relationship between Healey's office and attorneys representing SPAM.
"All we want is for Massachusetts voters to be armed with the truth before they head to the polls to decide who will become the next governor of the Commonwealth of Massachusetts," Lyons said. "This matter absolutely warrants media attention and answers from the Democratic candidate for governor."
BACKGROUND:
Last week a representative for Boston First Responders United received an intimidating cease-and-desist demand threatening legal action from an attorney representing the State Police Association of Massachusetts: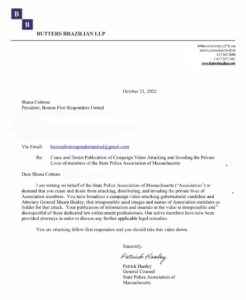 "You have broadcast a campaign video attacking gubernatorial candidate and Attorney General Maura Healey," the letter states in part.
On Monday, the MassGOP issued a follow-up press release highlighting the connection between the attorney behind the cease-and-desist demand, Patrick Hanley, and Healey's office.
Hanley spent 11 years working in the attorney general's office, both when Healey was assistant attorney general and later when she was elected AG.
Hanley's ties to Healey's office also include legal work spent defending one of three assistant district attorneys involved in the state drug lab scandal that an assistant counsel for the Massachusetts Board Bar of Overseers described as "one of the most severe cases of conduct prejudicial to the administration of justice that this Commonwealth has ever seen."

2022-10-27 MassGOP Healey FOIA by Evan on Scribd