MEDIA ADVISORY: Boston First Responders United, MassGOP Chairman Lyons, will publicly address questions about AG Maura Healey's alleged unethical behavior
After same attorney who worked under Healey tried to censor damaging allegations against his former boss, Lyons and a BostonFRU representative will share new information tomorrow at 8 a.m. on WRKO-AM 680 with host Jeffrey Kuhner
Oct. 25, 2022
MEDIA ADVISORY
CONTACT: Evan Lips, communications director
617-523-5005 ext. 245
WOBURN — Massachusetts Republican Party Chairman Jim Lyons will join a representative from Boston First Responders United on The Kuhner Report radio program beginning at 8 a.m. tomorrow to discuss allegations of unethical behavior facing Attorney General Maura Healey and subsequent attempts to censor those raising questions on the matter.
WHEN: 8 a.m.
TUNE IN: WRKO AM 680
ONLINE LIVE STREAM: Click here
BACKGROUND:
Last week a Boston-based first responders organization opposed to COVID-19 vaccine mandates shared a video on social media last Thursday drawing attention to questions about alleged unethical behavior involving Democratic gubernatorial candidate, Attorney General Maura Healey.
The video specifically asks whether Healey should address allegations that she initiated improper relations with a series of female Massachusetts Police state troopers working under her command.
The MassGOP highlighted the video and the allegations of unethical behavior in a press release issued Friday.
Moments after the issuance of the press release, Boston FRU officials received an intimidating cease-and-desist demand from an attorney representing the State Police Association of Massachusetts threatening legal action: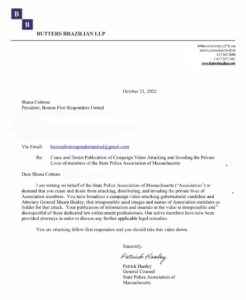 On Monday, the MassGOP issued a follow-up press release highlighting the connection between the attorney behind the cease-and-desist demand, Patrick Hanley, and Healey's office.
Hanley spent 11 years working in the attorney general's office, both when Healey was assistant attorney general and later when she was elected AG.
Hanley's ties to Healey's office also include legal work spent defending one of three assistant district attorneys involved in the state drug lab scandal that an assistant counsel for the Massachusetts Board Bar of Overseers described as "one of the most severe cases of conduct prejudicial to the administration of justice that this Commonwealth has ever seen."

MassGOP Chairman Jim Lyons said he and a Boston FRU representative will discuss the issue at length tomorrow morning with WRKO-AM 680 host Jeffrey Kuhner and provide an update on attempts to silence and censor members of local law enforcement who have called on Healey to address the allegations.
"These are serious allegations of unethical behavior involving the Democrats' nominee for governor, Attorney General Maura Healey, and so far not a single news outlet has called on her to address these questions," Lyons said. "Tomorrow at 8 a.m. voters will be able to hear a discussion focusing on these allegations for the very first time during this crucial campaign.
"We are urging members of the media to tune in and decide for themselves whether these allegations of unethical behavior, and the subsequent cease-and-desist threats issued by an individual with close professional ties to the attorney general's office, deserve answers from candidate Maura Healey."