Massachusetts Jewish Republicans call on Democrats to address Rep. Tlaib's anti-Semitism
FOR IMMEDIATE RELEASE
May 17, 2019
CONTACT:
Evan Lips, communications director
617-523-5005 ext. 245
The Massachusetts Republican Jewish Committee calls upon the Massachusetts Congressional Delegation to initiate proceedings to censure Congresswoman Rashida Tlaib for her pattern of anti-Semitism.
Most recently, Rep. Tlaib distorted the history of Palestine's role in the Holocaust. She is a leading advocate for the Boycott, Divestment, and Sanctions (BDS) movement, which seeks to isolate Israel and destroy its economy. She has been a supporter of major terrorist organizations, including Hamas, Hezbollah, and Islamic Jihad, and has befriended or praised convicted terrorists, such as Rasmea Odeh and Mohammed Ali, both of whom murdered or wounded Jews. She and her ilk have repeatedly referred to Israel as a "racist apartheid state." She urges an end to all U.S. support for Israel, and openly supports the destruction of Israel via a one-state solution in favor of the Palestinians. She even covered over Israel with "Palestine" on the wall map in her office.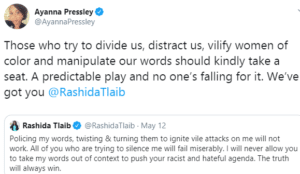 Congresswoman Tlaib has proven herself unworthy of Congress. If the Democrats are truly against anti-Semitism, they must expel her from their party.
It is disheartening to see that members of Massachusetts' own Congressional Delegation have rushed to her defense,yet Congress is thus morally obligated to enact articles of censure against her, and to that end, we call for this to proceed with the customary roll call vote.
– Thomas Mountain, vice chairman, Massachusetts Republican Jewish Committee