Massachusetts AG Healey on looted, burned-out local businesses: "That's how forests grow."
FOR IMMEDIATE RELEASE
CONTACT: Evan Lips, communications director
617-523-5005 ext. 245

WOBURN — Massachusetts Attorney General Maura Healey, standard-bearer for the Massachusetts Democratic Party, on Tuesday appeared to cheer on the destruction of American cities at the hands of leftist mobs, remarking that the "burning" devastation is "how forests grow."

"Sadly, but predictably, this is the message our state's top law enforcement official is sending," said Massachusetts Republican Party Chairman Jim Lyons. "This is the message the Massachusetts Democratic Party is sending to business owners forced to shutdown for months only to watch left-wing mobs torch their life's work.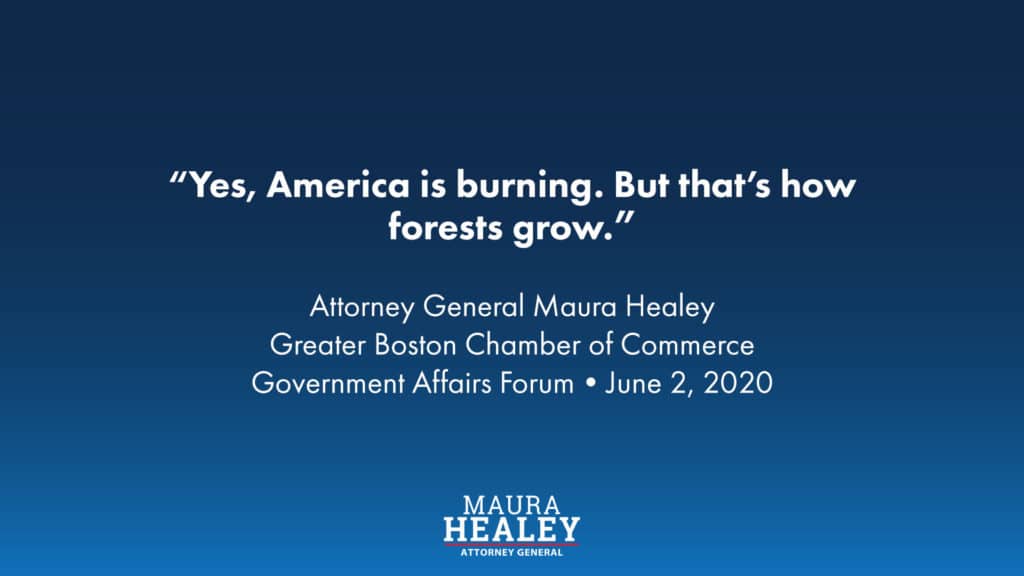 "Out of all the messages her office could have sent to struggling residents and business owners left powerless as their neighborhoods burned, this is the message Attorney General Healey and the rest of the Radical Democrats have decided to promote."   Added Lyons:   "By choosing to highlight this insane analogy, it should be clear to Massachusetts residents that no matter what else Democrats like Attorney General Healey say, they will always condone mob tactics. The Radical Democrats, led by the likes of Attorney General Healey, sat back and watched as cities went up in flames over the weekend, and are now openly admitting that this is all part of their plan to fundamentally change America by any means possible.   "This is no way to honor the memory of George Floyd, or correct the problems that led to his unjustified killing."