ZOOM Town Hall: Veterans, Law Enforcement and Family Coalitions
Please see the invitation below to the MassGOP Veterans, Law Enforcement and Family coalitions Zoom Town Hall. The event will be held on Thursday, March 4, 2021 from 5:30pm – 6:30pm.

To RSVP please respond to jm@massgop.com and a zoom link will be provided.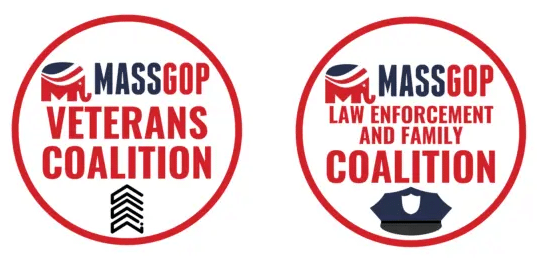 Veterans, Law Enforcement and Family Coalitions
Zoom Town Hall Thursday, March 4, 2021 5:30pm – 6:30pm
Host: Massachusetts Republican Party Jim Lyons, Chairman

Bios for Speakers

Julie Hall is a veteran, and a proud mother. In 1978, Julie enlisted in the Air Force, at a time when there were very few women serving in the armed forces, she rose through the ranks to become an officer. Julie's hard work made her stand out as a top performer which was recognized during her promotion from Captain to Major. She was promoted to the rank of Major well before schedule and retired as a full Colonel. Among her responsibilities in the Air Force was serving as the Medical Chief Operating Officer for small clinics, large medical centers and as the Senior Healthcare Executive of a multi-facility healthcare system in the Washington DC area. This gave her an expert understanding of our healthcare system. After retiring from the Air Force, Julie ran for political office in Attleboro. As a City Councilor, she championed small businesses and stood up for the city's veterans. More recently, she ran as a candidate for the Fourth Congressional District. Julie served our country, and then ran for office, starting at the local municipal level.

John MacDonald served in the United States Air Force as a firefighter and is a veteran of Operation Desert Storm. John is a spokesman and board member of Veterans Assisting Veterans, a 501(c)3 non-profit organization, that helps veteran in need. John is a former radio show host, former candidate for the state legislature, and a former contributor to Fox News, and is a weekly columnist seen in The Lowell Sun and The Fitchburg Sentinel.

Paul Diego Craney is the spokesperson and on the board of Massachusetts Fiscal Alliance. MassFiscal is the state's largest 501(c)4 organization that holds state politicians accountable to their voting record on issues of taxes, spending, and the budget process.

Kelly Pease grew up in the hill towns of Western Mass. and from an early age was civic minded. After high school, Kelly served as a volunteer fireman, a police officer, and was elected to the board of selectman for a three-year term. Upon completing his term as a selectman in Chester (MA), Kelly enlisted in the United States Army and served twenty years on active duty retiring at the rank of Chief Warrant Officer Four. Kelly lives in Westfield with his wife, Serena, and their 9-year-old son, Riley. He also has a son who is serving in the United States Air Force and currently is stationed in Japan. Kelly was elected to serve as the State Representative from Westfield this past November.

Steve Xiarhos is the grandson of Greek legal immigrants and the son and grandson of United States Army, Air Force, and Merchant Marine Veterans. Steve serves on the Board of Directors of the Massachusetts Iraq and Afghanistan Fallen Heroes Memorial Fund and the Massachusetts Military Support Foundation; as well as a Volunteer for Wounded Warrior Project Cape Cod Soldier Ride. Steve began his law enforcement career in 1979 and retired after 40 years in which he served the Yarmouth Police Department from the ranks of Detective, School Resource Officer, Patrol Sergeant, Lieutenant, Patrol Force Commander, Detective Division Commander, and eventually Deputy Chief of Police.Steve is a proud parent of four children. He is a Gold Star Father, in honor of his oldest son, Nicholas. Nick Xiarhos died at age 21 on the battlefield during Operation Enduring Freedom. He was going to the rescue of fellow Marines in combat as part of 'Operation Strike of the Sword' in the Garmsir district of Helmand Province Afghanistan on July 23, 2009. Steve's other son, Alexander, served alongside Steve as a full-time Police Officer in the town of Yarmouth. Steve's identical twin daughters, Elizabeth and Ashlynne, serve in the hospitality industry. Steve was elected to serve as the State Representative from Sandwich this past November.

Adam M. Hogue is an active member of the Republican Party and his local Town Committee. Adam is an elected school committee member and sits on various local boards. Adam is a veteran having served during Operation Enduring Freedom where he was awarded a Bronze Star for his Service. He currently resides in Lincoln, MA and is a Managing Partner at Northern Peak Financial.