VP Kamala Harris and the Biden administration's historic disapproval rating are coming to Boston to stump for Maura Healey
"A vote for Maura Healey is a vote for the Biden administration's disastrous policies"

Nov. 1, 2022
FOR IMMEDIATE RELEASE
CONTACT: Evan Lips, communications director
617-523-5005 ext. 245
WOBURN — The Democratic presidential administration with one of the worst first-term approval ratings of all time is sending its vice president to Boston on Wednesday to rally support for far-left Attorney General Maura Healey and a crew of radical progressives, including U.S. Rep. Ayanna Pressley, candidate for attorney general Andrea Campbell, and Boston Mayor Michelle Wu.
"If you're a fan of the Democrats' record inflation-causing agenda, budget-destroying energy policies, soul-crushing mandates, defunding of law enforcement, and support for far-left public school indoctrination, then this is the event for you," Massachusetts Republican Party Chairman Jim Lyons said Tuesday. "Failure, toxic woke identity politics, and economic misery will be on full display in Boston tomorrow afternoon, and voters will be able to witness it in person if they so desire."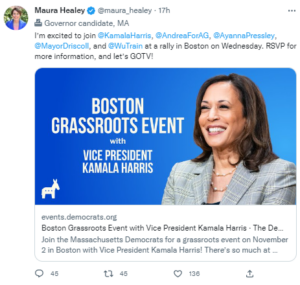 Register for the event by clicking here
Republican candidate for Congress Donnie Palmer, who is challenging Pressley this fall, has organized a counter demonstration outside the Reggie Lewis Track and Athletic Center located at 1350 Tremont St. in Boston where the event will take place.
According to organizers, doors will open at 3:30 p.m. while the full program is set to kick off at 5:30 p.m.
"Events like this should serve to clue in voters who are being sold a bill of goods by Maura Healey's campaign that she is some sort of moderate unifier, when nothing could be further from the truth," Lyons said. "Healey has 100 percent bought in to the Biden administration's disastrous agenda, and voters should do themselves a favor and recall that Biden tried to paint himself as a moderate as well.
"Yet for almost two years now, America has had to live through what the Biden administration really stands for: a woke agenda that is destroying family budgets and tearing apart the country. Massachusetts simply cannot make the same mistake by allowing Maura Healey to become governor, because one-party rule led by this group will destroy the state beyond all recognition."