Statement from Massachusetts Republican Party Chairman Jim Lyons on the AG campaign of Andrea Campbell
Sept. 29, 2022
FOR IMMEDIATE RELEASE
CONTACT: Evan Lips, communications director
617-523-5005 ext. 245
WOBURN — Attorney General Maura Healey's preferred successor, Democrat Andrea Campbell, has finally agreed to a single debate with Republican AG candidate Jay McMahon, a development Massachusetts Republican Party Chairman Jim Lyons said will show voters "just how radically far-left" Campbell is.
"Andrea Campbell led the charge in Boston for defunding the police, choosing politics over public safety, and that should immediately disqualify her for the job as the state's top law enforcement officer," Lyons said. "She would usher in an era of lawlessness never seen before in Massachusetts."

Lyons also pointed to Campbell's support for granting driver's licenses to illegal immigrants and her previous pitches to gut the prison system and bar police from public schools.
"These are dangerous policy positions that put the public's safety at risk all in the name of politics," Lyons said. "Andrea Campbell's radical progressive agenda would lead to disastrous results in Massachusetts, just like other states have already experienced whenever someone devoted to that dangerous ideology assumes a top law enforcement post."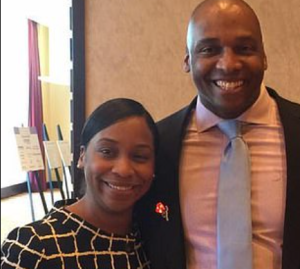 Lyons added that Campbell's brother, an alleged serial rapist currently on trial after being accused of posing as a rideshare driver to target intoxicated women leaving bars and clubs in downtown Boston, would likely qualify for release under his sister's proposal to end "mass incarceration" and "eliminate cash bail."
"If Andrea Campbell's radical policy agenda was enacted today, her brother would be back on the streets and resuming his actions as a serial sexual predator," Lyons said. "There is an opportunity here for Republican Jay McMahon to expose this, and that is exactly why Andrea Campbell kept refusing to debate him."