Senate Republicans work to ensure public input on mail-in voting extension
FOR IMMEDIATE RELEASE
CONTACT: Evan Lips, communications director
617-523-5005 ext. 245
WOBURN — Massachusetts Republican Party Chairman Jim Lyons offered his praise to a tandem of Republican state senators after the duo successfully lobbied to make a proposal to extend mail-in voting through the end of June subject to public testimony.
On Monday, led by Republican House Minority Leader Brad Jones who was complicit with House Democrats in the scheme to shield the proposal from the public, a mail-in voting extension was passed during a sparsely attended informal session, without a hearing, debate, or even a vote, and ignoring a laundry list of concerns raised by Republican members of the Joint Committee on Election Laws.
"They effectively worked to keep this controversial piece of legislation away from the public," Lyons said.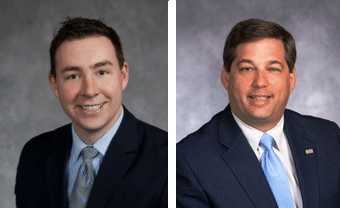 On Wednesday, however, state Sen. Ryan Fattman (pictured above, left) of Sutton and Senate Minority Leader Bruce Tarr of Gloucester (right) successfully pumped the brakes

"It's unfortunate this measure came to the Senate without the benefit of a public hearing," Tarr said during his remarks, referring to the scheme hatched by Jones and Democratic House Speaker Ron Mariano.

Fattman referenced a December request issued to Secretary of State William Galvin and signed by himself along with several House Republicans. The request involved determining the number of undeliverable ballots and total cost of the mail-in voting system utilized in the fall, in addition to evaluating security concerns.

"We need answers before we move forward," Fattman said Wednesday.

Lyons thanked Fattman and Tarr "for doing the right thing."

"We agree with Sen. Tarr's comment that this should have been subject to a public hearing, and he and Sen. Fattman are doing exactly what Republicans should be doing: standing up for the voters," Lyons said. "We're proud of Senators Tarr and Fattman for doing their jobs, and we hope House Republican leadership is taking notice."