MassGOP Chairman Jim Lyons: Thank you to WBZ's Jon Keller for calling attention to AG Healey's "poor metaphor"
MassGOP's summer campaign to expose the Democrats is already attracting media coverage
June 15, 2022
FOR IMMEDIATE RELEASE
CONTACT: Evan Lips, communications director
617-523-5005 ext. 245
WOBURN — Massachusetts Republican Party Chairman Jim Lyons on Wednesday thanked WBZ-TV's "Keller at Large" Jon Keller for bringing attention to a GOP-backed television advertisement recalling Attorney General Maura Healey's approving comments regarding leftist mobs who caused dozens of human casualties and millions of dollars worth of urban damage during the summer of 2020.
"Yes, America is burning, but that's how forests grow," was Healey's comment to the Greater Boston Chamber of Commerce on June 2, 2020, just days after leftists torched police cruisers, looted businesses and shot at Boston Police officers.
Lyons pointed out that Healey's response to Keller yesterday was that her comparison was a "poor metaphor."
"That is a total contradiction of what Maura Healey wanted people to think in 2020 because she was so enamored with her 'metaphor' that she directed staff to promote a graphic showcasing her choice of words on social media," Lyons said.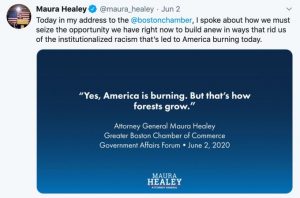 "The fact that Maura Healey was busy proudly promoting this quote herself during the summer of 2020 should tell voters exactly what they need to know in 2022," Lyons said. "Maura Healey practically spelled it out: the Democrats want to destroy America so they can then rebuild it in their own radical image.
"Their vision of America is one where government reach dictate people's freedom. Our vision of America is one where people's freedoms dictate the government's reach.
"Over the next 90 days we will show everyone just how badly the Radical Left wants to tear America to shreds," Lyons said. "The Radical Democrats — not Vladimir Putin — are what's causing inflation. The Radical Democrats are pulverizing family budgets with their energy policies, and the Radical Democrats are now providing driver's licenses to illegal immigrants."
"The Democrats have a monopoly on Beacon Hill and complete control over the federal government, and Massachusetts citizens are shouldering the pain that has directly resulted from the Democrats' total control."
Watch the advertisement: