MassGOP Chairman Jim Lyons calls on AG Maura Healey to protect referendum signature collectors' constitutionally-protected civil rights
Find a signature collection location near you. Visit www.FairAndSecureMA.com for more info.
July 22, 2022
FOR IMMEDIATE RELEASE
CONTACT: Evan Lips, communications director
617-523-5005 ext. 245
WOBURN — Massachusetts Republican Party Chairman Jim Lyons on Friday called upon Attorney General Maura Healey to "step up" and protect the civil rights of volunteer signature collectors and use her office to prosecute leftist agitators working to shut down signature collection events across the state.
Signature collectors who have been working to put the new policy granting driver's licenses to illegal immigrants before voters this fall in the form of a referendum are constitutionally protected from "interference or attempted interference by threats, intimidation, or coercion," according to the state's official interpretation of the law.
"Petitioners or the attorney general may obtain a court order against any violations," the state's interpretation adds.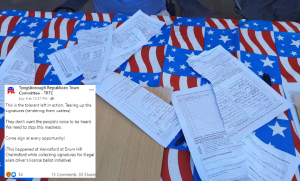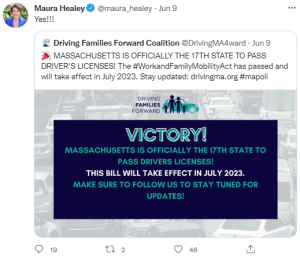 Lyons said he simply wants Healey to do her job and protect the civil rights of the people gathering signatures.
"Is this another instance of 'America is burning but that's how forests grow?,'" Lyons said, referencing Healey's comments about 2020 urban rioting and looting. "This is a state attorney general, someone responsible for upholding Massachusetts constitutional and civil rights laws, and so far she's done and said nothing about this."
"This is the same individual who targeted pregnancy crisis centers with a consumer advisory, falsely accusing them of actively seeking to harm women, because she's a big advocate for Planned Parenthood and abortions-on-demand. This time, AG Healey is refusing to protect the civil rights of signature collectors because she supports rewarding illegal immigrants with Massachusetts driver's licenses."
Lyons added that his legal counsel has issued several additional notices reminding shopping centers and other businesses that volunteers have a constitutional right to solicit signatures in high-traffic public areas, as long as they don't interfere with day-to-day business.
"Again, our volunteers have been peacefully collecting signatures but when agitators begin bothering customers and causing a commotion, it creates problems for the businesses," Lyons said. "For those unaware, it is an outright violation of state civil rights laws to interfere with individuals collecting signatures for a referendum.
"We will continue to call on the attorney general to do something about this illegal activity."
MassGOPSigngathcorresp1 by Evan on Scribd
MassGOPSigngathcorresp2 by Evan on Scribd