MassGOP Chairman Jim Lyons: AG Maura Healey again using office for political purposes
What should be a simple legal matter is intentionally being slow-walked as illegal immigrant drivers' license referendum signature deadline looms
June 22, 2022
FOR IMMEDIATE RELEASE
CONTACT: Evan Lips, communications director
617-523-5005 ext. 245
WOBURN — Efforts to collect enough signatures to have voters decide this fall whether illegal immigrants should be rewarded with state-issued driver's licenses are intentionally being stalled by Massachusetts Attorney General Maura Healey, Massachusetts Republican Party Chairman Jim Lyons said Wednesday.
Healey is purportedly responsible for finalizing petition language related to the proposed referendum, which is aimed at putting the driver's-licenses-for-illegal-immigrants law, passed this spring by Democrats without a single Republican vote, before voters in November.
Yet nowhere in Massachusetts constitutional law does it reference a requirement that the referendum process to repeal a recently-passed state statute must secure the attorney general's approval, which is instead reserved for ballot initiatives.
Regardless, once Healey "approves" the petition referendum, proponents have only until Aug. 24 to clear a 40,000-signature requirement to ensure it appears on state election ballots.
Meanwhile, it took less than 12 hours for the Secretary of State's office to forward the petition, submitted on June 15, to Healey, where it has since languished.
"This is all about politics and all about waiting out the clock, something Maura Healey has done in the past," Lyons said, referencing Healey's refusal to certify a 2020 ballot initiative aimed at codifying into law a newborn's right to lifesaving medical care. "Maura Healey used her office to sue a Republican United States president more than 40 times and is no stranger to playing political games in an effort to keep the Democrats' unpopular legislation from being decided upon by Massachusetts voters."
"The real reason why Maura Healey continues to refuse to approve the petition referendum is because she supports rewarding illegal immigrants with driver's licenses and doesn't want to see the issue appear on the ballot."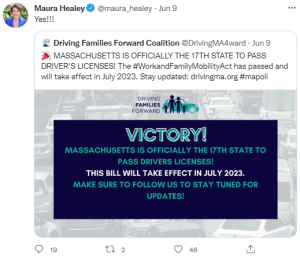 In her rejection of the 2020 newborns initiative Healey claimed the terms "baby" and "born" were "too ambiguous," prompting petitioners to pursue an injunction from the state Supreme Judicial Court. The injunction against Healey was successful but it cost petitioners more than a week's worth of signature-gathering, causing them to fall just short of the threshold.
"The clock started ticking the day the Democrats overrode the governor's veto, and Maura Healey knows exactly what she's doing by stalling this," Lyons said. "The office of the attorney general is responsible for upholding the law of the land, and Maura Healey is instead actively working to undermine the law, first by supporting giving driver's licenses to unlawful citizens and now by trying to deny the voters' the chance to overturn it."