Massachusetts Senate follows House Democrats, votes to override Gov. Baker veto against granting illegal aliens state driver's licenses
Attorney General Maura Healey among those cheering lawless legislation
June 9, 2022
FOR IMMEDIATE RELEASE
CONTACT: Evan Lips, communications director
617-523-5005 ext. 245
WOBURN — Senate Democrats on Thursday joined their House counterparts in voting lockstep to override Gov. Charlie Baker's veto of legislation granting illegal aliens access to Massachusetts driver's licenses, again ignoring concerns about non-citizens voting in state elections and effects the legislation will have on encouraging more illegal border crossings.
The final vote was 32-8. Attorney General Maura Healey, the top Democrat in the running to be the next governor of Massachusetts, cheered the outcome.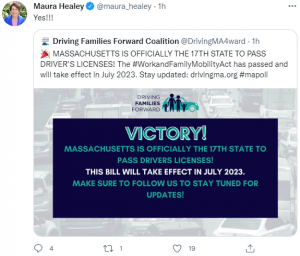 Massachusetts Republican Party Chairman Jim Lyons said voters can expect to be reminded consistently of how their lawmaker voted on the matter between now and Election Day.
He also questioned how Healey, the state's top law enforcement officer, could "celebrate something so lawless."
"The Democrats are ringing the dinner bell and are now officially calling for even more individuals to illegally enter not only the country, but come to Massachusetts," Lyons said. "Instances of human trafficking, fentanyl distribution, and voter fraud will now increase because the Democrats caved in order pander to the far-left open borders lobby.
"When you reward someone for breaking the law, you can't expect them to be honest when it comes to their identity. The only thing for certain is that this new law will lead to disastrous effects down the road."
See how your state senator voted: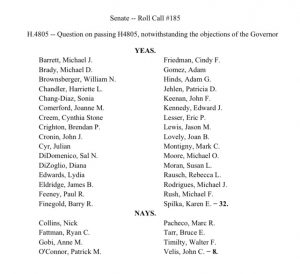 See how your state representative voted: