Florida U.S. Rep. Byron Donalds to serve as keynote speaker at MassGOP Nominating Convention
April 21, 2022
FOR IMMEDIATE RELEASE
CONTACT: Evan Lips, communications director
617-523-5005 ext. 245
WOBURN — The keynote speaker at next month's Massachusetts Republican Party Convention in Springfield will be
Florida U.S. Rep. Byron Donalds
, MassGOP Chairman Jim Lyons announced Thursday.
"Congressman Donalds is a shining example of what the Republican Party is all about," Lyons said. "He is someone who is bold. He is someone who is unafraid to speak out against the Democrats' radical agenda. We are proud to host Congressman Donalds as our keynote convention speaker."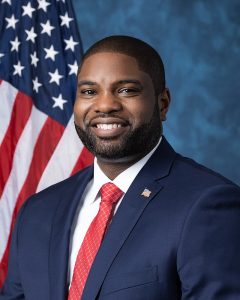 Donalds was elected to Congress in 2020 after defeating his Democratic opponent by more than 100,000 votes. The Naples, Fla., Republican made headlines last June when the Congressional Black Caucus
refused to admit him as a member
.
"Obviously, the dominant voice in the CBC tends to be Democrat or liberal voices, and I
want to bring change to that,"
Donalds said
at the time he applied.
The House Freedom Caucus welcomed Donalds with open arms and endorsed his 2020 campaign.
Donalds, 43, was born in Brooklyn to a single mother before moving to Florida and graduating from Florida State University in 2002 with degrees in finance and marketing.
He has previously served in the Florida House of Representatives.
Donalds and his wife Erika are the proud parents of sons Damon, Darin, and Mason.