Take part in the variety of GOP events occurring all across the Commonwealth! You can RSVP for an event using the tools below, or get in touch with the organizers of each event by clicking on it.
You can also submit your event by clicking:
Note: Submitted events are subject to approval by MassGOP staff. Please submit your contact information along with the event details and we will be in touch if there are any questions.

Yellowstone Style Country Western Campaign Fundraiser with Rep X
November 18 @ 1:00 pm

-

5:00 pm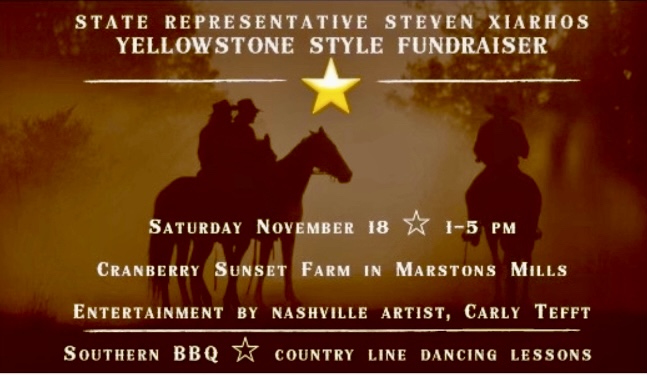 Massachusetts State Representative Steven Xiarhos and friends are hosting a very special celebration and fundraiser!
Join us for a very special old fashioned Yellowstone Style country and western celebration and fundraiser with Rep X at the beautiful Cranberry Sunset Farms in the historic village of Marstons Mills in our great Fightin 5th District.
Representative Xiarhos–aka–Rep X serves and represents 45,000 citizens in the 5th Barnstable District covering the towns of Sandwich, Barnstable, and Bourne.
Rep X proudly serves on the following Committees
Joint Committee on Ways and Means
Joint Committee on Veterans and Federal Affairs
Joint Committee on Public Safety and Homeland Security
Joint Committee on Mental Health, Substance Use, and Recovery
Please support his mission of service before self and come and enjoy a very special event with family and friends featuring live music by our very own Nashville Country Music Artist Carly Teft, Line Dancing Lessons with BallRoom Bliss Cape Cod, and some beautiful rescued horses and farm animals.
Tickets are only $35–which includes a complete country style meal of—Barbecued Chicken, Pulled Pork, Mac and Cheese, Baked Beans, Cole Slaw, and Cornbread—and free Line Dancing Lessons!
Tickets can be purchased at the door or online here at
https://www.eventbrite.com/e/yellowstone-style-country-and-western-fundraiser-with-rep-xiarhos-tickets-743761810597
If you are unable to make it, please consider buying a ticket and giving it to a friend or sponsoring a Veteran or First Responder!
For more information about this special therapeutic farm, please visit
www.CranberrySunsetFarm.com
Put on your best country and western boots, jeans, and hat and we will see you on Saturday, November 18th at 1PM!
Faith
Family
Friends
Flag
Freedom
Forever
LETS GOOOOOOOOO!
#RepX #Fightin5th #BootsOnTheGround #ServiceBeforeSelf #ProudAmericans #AllInThisTogether #CarlyTeft