Big Tech censorship strikes again as Google/YouTube remove MassGOP ad highlighting AG Healey comments
Claims 30-second spot highlighting Healey's response to 2020 riots "violates community standards"
June 28, 2022
FOR IMMEDIATE RELEASE
CONTACT: Evan Lips, communications director
617-523-5005 ext. 245
WOBURN — Censors at YouTube, the popular video hosting service now owned by Google, have removed an advertisement paid for by the Massachusetts Republican Party highlighting incendiary comments made by Maura Healey amid the rioting and destructing that occurred in American cities during the summer of 2020.
"We wanted to let you know our team reviewed your content, and we think it violates our Community Guidelines," read an email the technology giant sent to the MassGOP press email account Tuesday morning. "YouTube does not allow content that contains mature or violent themes where there is a clear intent to target younger minors and families."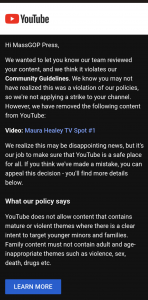 The video, which had recently begun generating thousands of views, features raw footage of rioting and destruction and begins with a narrator recalling how "our cities were under attack, from coast to coast, businesses were burned, livelihoods were destroyed, while 25 people died."
The video then directs attention to mayhem that occurred in Boston on May 31, 2020, and Healey's subsequent description of the looting, fires, and damage that resulted: "Yes, America is burning, but that's how forests grow."
The MassGOP filed an appeal with YouTube.
"Here are Republicans, yet again, being censored by left-wing technocrats," MassGOP Chairman Jim Lyons said. "Our advertisement simply shows viewers what they already witnessed in 2020 and serves to remind them of how Democrats like our Attorney General Maura Healey reacted to the violence and destruction."