AG Healey: Rule of law doesn't matter if you're a fellow Democrat
FOR IMMEDIATE RELEASE
CONTACT: Evan Lips, communications director
617-523-5005 ext. 245
WOBURN — A multi-year state Ethics Commission investigation has reached a conclusion that was blatantly obvious from the start, Massachusetts Republican Chairman Jim Lyons said Thursday, referring to the commission's announcement that
Worcester County District Attorney Joseph Early Jr., a Democrat, broke the law when he ordered the altering of an arrest report in an apparent effort to protect a colleague.
  Lyons's attention is now focused on Massachusetts Attorney General Maura Healey, a fellow Democrat,
who determined in 2018 that Early should not face criminal charges.
  ""
According to Massachusetts general law
, 'tampering with record, document, or other object for use in an official proceeding' is a violation of the law," Lyons said. "It's a disturbing pattern with Attorney General Healey — there's one set of laws for the public and a different set of laws for elected Democrats like herself and DA Early."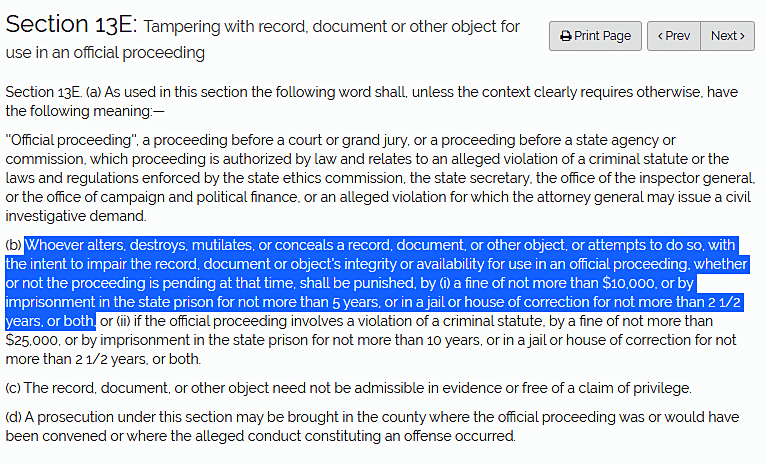 "Our state's top law enforcement official has sued President Donald Trump more times than any other state AG, but refuses to lift a finger to root out corruption here in Massachusetts," Lyons said. "This one was teed up right in front of her."   Lyons pointed to Healey's previous defense of Newton District Court Judge Shelley Joseph, currently facing federal charges for helping an illegal immigrant facing drug charges evade federal immigration agents, and Salem Superior Court Judge Timothy Feeley, who in 2018 made headlines for granting probation to a convicted longtime heroin dealer facing deportation. Healey called the federal charges filed against Joseph a
"radical and politically-motivated attack on our state,"
and defended Feeley's decision as
"apolitical."
  "Sadly, AG Healey treats her office as the legal arm of the Democratic Party at the expense of Massachusetts residents," Lyons said. "This is the latest instance where AG Healey is clearly making a statement that when it comes to her fellow Democrats, the rule of law doesn't matter.
"Meanwhile, Attorney General Healey's statement earlier this month regarding the looting, destruction, and violence of American cities was very telling. Our commonwealth's chief law enforcement officer took a look at the leftist mobs torching businesses and private property, shrugged, and told us "that's how forests grow."