After AG Maura Healey issues consumer advisory targeting crisis pregnancy centers, vandals target two centers in Worcester
July 8, 2022
FOR IMMEDIATE RELEASE
CONTACT: Evan Lips, communications director
617-523-5005 ext. 245
WOBURN — A day after Attorney General Maura Healey publicly accused crisis pregnancy centers of using "deceptive and coercive tactics," two Worcester-based clinics became targets for vandals who smashed doors and windows and dumped paint on the buildings.
Healey's consumer advisory notice claims that crisis pregnancy centers, which offer women counseling and testing services, "are organizations that seek to prevent people from accessing abortion care."
One center that was targeted, Problem Pregnancy, is located directly across the street from a Planned Parenthood abortion clinic, according to news reports.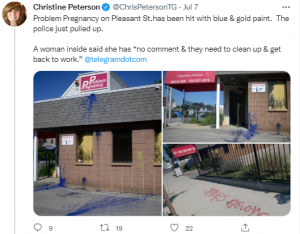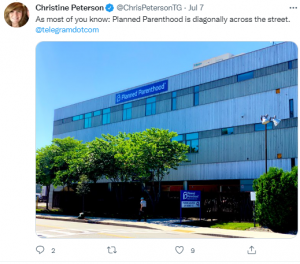 "These were acts of domestic terrorism and should be treated as such," Massachusetts Republican Party Jim Lyons said. "Maura Healey's words have consequences, and just like when she egged on rioters during the summer of 2020, the far left is taking its cues from her and resorting to violence and destruction."
Lyons comment references remarks Healey made the morning after rioters in downtown Boston looted stores, burned police cars, and fired shots at officers.
"Yes, America is burning, but that's how forests grow," Healey said at the time during a speech to the Boston Chamber of Commerce.
"The fact of the matter is that Maura Healey went out of her way to put a bullseye on these centers and leftist activists predictably took the bait and caused more violence and mayhem," Lyons said. "AG Healey continually uses her status of being the state's chief law enforcement officer as a political weapon to wield against things that stand in the way of the Democrat Party, whether it's their obsession with abortions-on-demand or with former President Donald Trump, who she sued almost 50 times.
"Voters must act accordingly this fall to guarantee that this individual will never assume the powers associated with being governor of the Commonwealth of Massachusetts."